A kitchen is a place where everything should be located for the owner's comfort and to increase the size of the space. That's estimated in modern kitchen design. Aesthetic and pleasant appearance is also important, a person should feel comfortable there.
For these reasons, many people choose refrigerators built into the countertop. Countertop depth refrigerator has a shallower depth than traditional refrigerators, to be exact, 30-36 inches. In compensation, counter-depth refrigerators are usually wider and slightly taller than traditional refrigerators. The extra width and height ensure that the refrigerators have the same capacity as standard refrigerators.
A counter-depth refrigerator stores items similar to a regular, full-size refrigerator, while not protruding more than one or two inches beyond kitchen tables and cabinets. Deep refrigerators are usually less than 30 inches deep. In contrast, most full-size refrigerators are more than 30 inches deep, often in the 35- to 36-inch range. Therefore traditional refrigerators can stick out half a foot or more from the edge of kitchen counters.
The positive sides of counted – depth refrigerators are:
shallow depth: refrigerators typically protrude just a few inches beyond the edge of the countertop.
built-in look: recessed refrigerators are flush with your kitchen countertops and cabinets, creating a more modern, streamlined aesthetic.
more free space: you'll have more space in the room to open your refrigerator doors without bumping into anything.
extra floor space: a deeper refrigerator makes it easier to move around your kitchen.
easier access: a shallower deep fridge means easy access to food and condiments.
wider and taller: The increased width and height of some models allow the recessed refrigerator to be as roomy as a traditional refrigerator.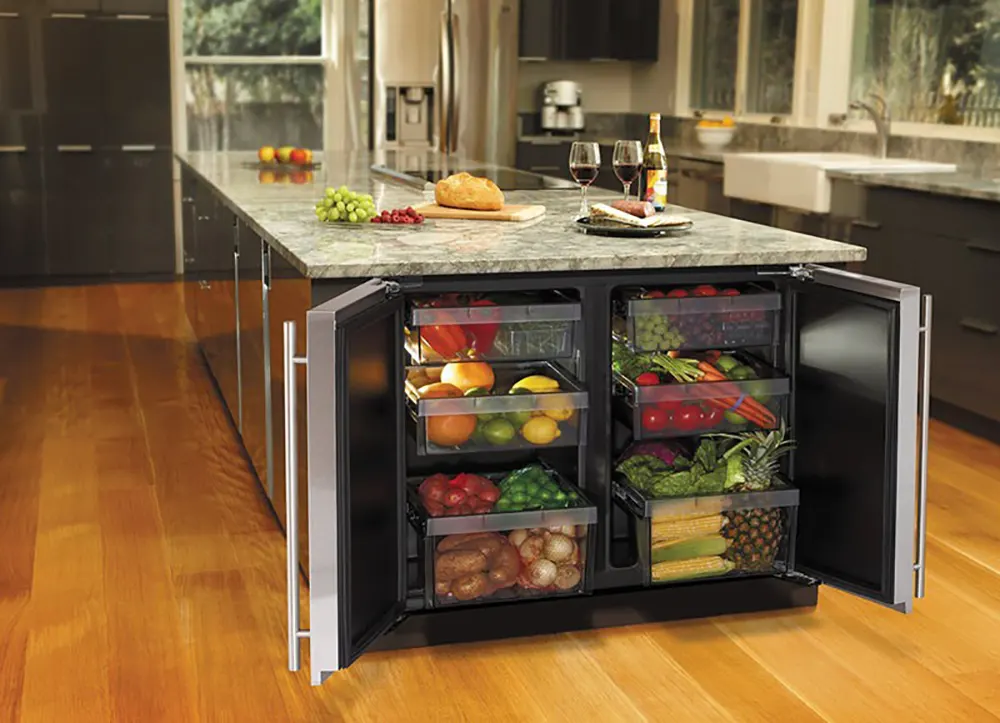 Top Rated Counter Depth Refrigerators by Highend Repair Experts
Our experts have decided to look for the most reliable refrigerator options for you. They took into account all the necessary evaluation criteria and wrote their top of the best counter depth refrigerators.
# 1 Frigidaire Gallery FG4H2272UF
This is one of the best counter-depth refrigerators that we have found:
measured usable space: 13.41 cubic feet in refrigerator and freezer;
style: french door;
dispensers: outside water and ice;
finish: stainless steel.
The Frigidaire FG4H2272UF refrigerator has it all. In addition to easily keeping a cold temperature during testing, this beautifully designed French door refrigerator has so many storage options that it will amaze you. To minimize the pain of wasted shelf space, the FG4H2272UF makes every cubic foot of space count.
If your food storage needs vary greatly, or if you want a refrigerator that preserves your food and looks good, the Frigidaire FG4H2272UF is an easy choice.
Pros :
maintains a constant temperature;
flexible storage options.
Cons: none.
# 2 Samsung RF23J9011SR
Another one model of the best counter depth refrigerator 2022:
measured usable space: 10.15 cubic feet in the refrigerator and 6.34 cubic feet in the freezer;
style: french door;
dispensers: external water and ice dispensers;
finish: stainless steel.
The Samsung RF23J9011SR French Door Refrigerator is a customizable option. Its unique four-door design will make a great conversation piece for guests.
The top two doors open, revealing the usual shelf configuration for a refrigerator with a French door. But the bottom two doors are like a side-by-side refrigerator, with separate compartments for each door. The lower left door is the freezer compartment. Depending on your food preservation needs, the right lower section can be either a refrigerator or a freezer.
In addition to these useful features, this refrigerator also works efficiently and can keep a cool temperature where you need it. With its intriguing appearance and reliable performance, you won't regret buying the Samsung RF23J9011SR.
Pros:
unique four-door design;
flexible temperature zone.
Cons: problem of the limited freezer space.
# 3 Hisense HRB171N6ASE
You need to pay attention to this one of the best counter-depth refrigerators because it has:
measured usable space: 8.75 cubic feet in the refrigerator, 2.87 cubic feet in the freezer;
style: lower freezer;
dispensers: none;
finishes: white, metallic black, stainless steel.
The Hisense HRB171N6ASE is an inexpensive refrigerator with great value. It has remarkable temperature consistency for its price range and has notable energy efficiency, even compared to other wall-mounted models.
However, this refrigerator is not without drawbacks. We recommend that everyone make sure the HRB171N6ASE is calibrated out of the box, as the unit we received was running a little too warm. Also, there is only one drawer for breadcrumbs, so those who want to store a lot of fruits and vegetables may find a better option elsewhere.
Nevertheless, we think this refrigerator has impressive features for its price. If you're looking for an inexpensive recessed refrigerator, the HRB171N6ASE would be a great choice.
Pros:
the stable temperature in both the refrigerator and freezer compartments;
great price.
Cons:
the fridge needs to be calibrated before use;
only one storage drawer.
# 4 Haier HRF15N3AGS
Haier is a reliable brand of home appliances. This one device has:
measured usable space: 8.06 cubic feet in the refrigerator, 3.48 cubic feet in the freezer;
style: french door;
dispensers: none;
finish: stainless steel.
The Haier HRF15N3AGS is significantly narrower and shorter than most French door refrigerators. While this means you'll be able to fit it in a small kitchen, it also means you'll be able to put less food in it.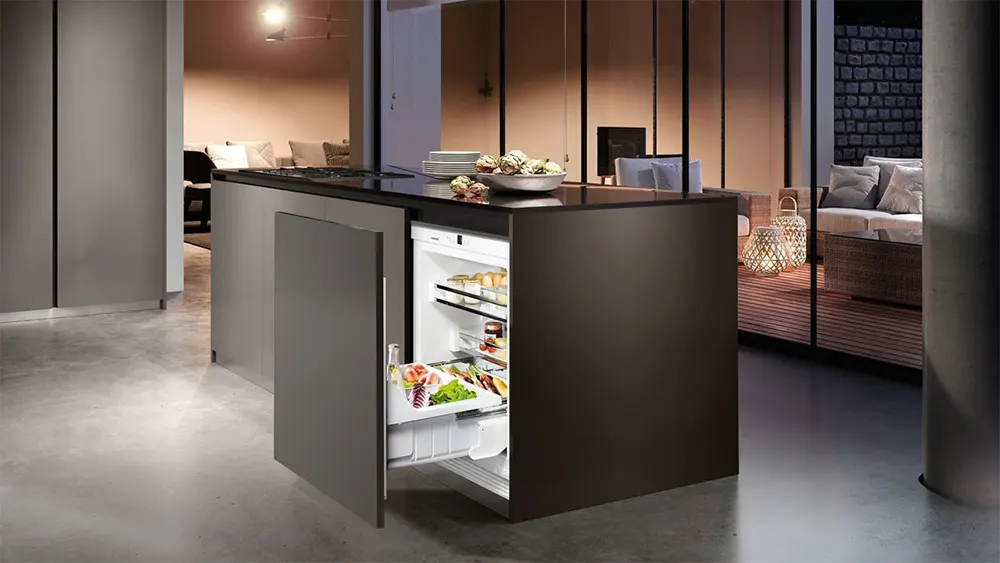 Because of its compact size, this built-in refrigerator comes with a fairly modest package. It doesn't have an ice maker or water dispenser, and the shelves don't adjust very well. But the cooling is top-notch. It easily kept the refrigerator and freezer at 37°F and 0°F throughout our week of testing.
If you don't need a lot of extra features and want to make the most of a relatively small kitchen, the Haier HRF15N3AGS compact refrigerator with a French door is a great choice.
Pros:
slim profile;
a constant temperature in the refrigerator.
Cons:
lack of through-the-hole dispensers;
limited shelf adjustability.
# 5 KitchenAid KRFC704FBS
The main characteristics of the best fridge counter depth are:
dimensions: 71.875 x 35.63 x 31.5 inches;
style: French door;
dispensers: Outside water and ice;
finishes: Stainless steel, black stainless steel.
The KitchenAid KRFC704FBS French door refrigerator has a lot of styles. From its finish to the wood and metal trim on the interior shelves and drawers, this refrigerator metaphorically showcases the podium and says, "Look at me!".
Even better, it also has an accurate temperature for food preservation, a pull-out middle shelf to accommodate taller items, smooth-closing drawers, and a control panel above the ice/water dispenser that's easy to understand and operate. For those on a budget who want something more interesting than the white plastic inside the refrigerator, you'll love the KitchenAid KRFC704FBS.
Pros:
a permanent temperature;
interior wood trim;.
dispensers through the door.
Cons: drawers seem wobbly.
# 6 Bosch B36CT80SNS
Bosch B36CT80SNS is one of the top rated counter depth refrigerator 2022. The general characteristics are:
measured usable space: 13.6 cubic feet in the refrigerator, 2.5 cubic feet in the freezer;
style: french door;
dispensers: Internal water and ice dispenser;
finishes: Stainless steel, black stainless steel.
The Bosch B36CT80SNS 800 Series refrigerator passed all of our temperature tests, maintaining consistent temperatures in both the refrigerator and freezer. We also liked the refrigerator's "smart" capabilities via Home Connect, crisp drawers with customizable temperatures and a fridge compartment with plenty of storage space.
Which is the drawback? The freezer compartment, while well-organized, is small – almost half the size of a typical French door refrigerator.
Pros:
excellent temperature control;
large refrigerator compartment;
internal dispensers.
Cons: small freezer compartment.
How to Avoid Common Mistakes of Using Counter Depth Fridges?
If you have already chosen your best counter – depth fridge, now you should use the following information to avoid some mistakes.
Floor-depth refrigerators are designed to fit flush with existing cabinets, rather than protruding 6 inches or more. The main cavity of these refrigerators is usually about 24 inches deep. The door and handles usually protrude further, depending on the design of the refrigerator. Thus, recessed refrigerators are usually 26 to 30 inches deep, compared to a standard refrigerator, which is usually closer to 36 inches deep.
The best way to buy the right refrigerator is to measure the refrigerator case or cabinet in your home and choose a refrigerator of about that depth (minus doors and handles).
We've made it easy for you and picked out our top rated counter depth refrigerator. Your task is to analyze everything carefully and choose the right one for you.