Hob Repair Service in San Jose and Bay Area, California
While using the hob for cooking, you need complete control of the process. If the burner is damaged or the panel is too hot, it may lead to an emergency with unfortunate consequences. You have to monitor the performance of the device. If the heating element does not work correctly, it leads to a longer cooking time, or the dish will start to burn.
In the case of a malfunctioning cooking surface, we recommend contacting our company. Our masters will quickly get the appliance back in working order. To get help, leave an application on the site or call us. We will discuss the arrival of the master at a convenient time for you.
We Repair All types of Cooktops
We carry out cooktop repairs of any complexity, regardless of their type and manufacturer. To restore the device, we use only quality spare parts and give a guarantee on the services provided. With us, you can order repairs of:
Gas burners..
Electric burners.
Induction hobs.
Radiant electric cooktop.
We also carry out ceramic cooktop repair at an affordable price. Regardless of the type of damage, we repair any cooking surface. Do not try to do the repair yourself. It can make the situation worse. We don't care if it's a commercial or residential complex. We work with all customers. As a rule, the repair is carried out at home, and payment is only after you accept the work done.
High-quality Replacement Parts Ensure your Problems Don't Come Back
Call us urgently if you have a scratched appliance or a cracked element on your hob. We guarantee a professional approach and accuracy in the work. Calling a master, be sure to describe the problem and specify the manufacturer, so the master can get the right parts, which are updated in our warehouse. Replacing a damaged part is carried out accurately, so your kitchen will remain clean. For fast customer service, we always have in stock such elements as:
Burners.
Dials.
Thermostats.
Valve.
Heating elements.
Relays.
Circuit boards.
Igniters.
Thermocouples.
To find out how much a cooktop fix costs, you can check with our specialists by calling our office.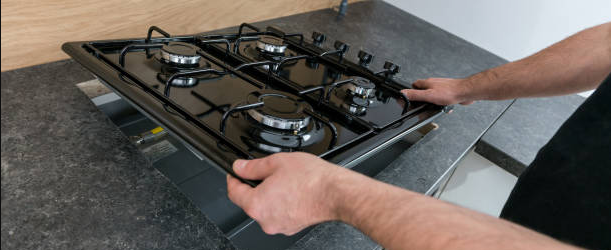 Call Now to Schedule a Cooktop Repair in San Jose and Bay Area
Our cooktop repaire service suggests that customers sign a service contract to eliminate unexpected breakdowns. Detecting problems on time will increase the life of the equipment many times over. Maintenance is performed once a year and is inexpensive.
Our craftsmen are constantly undergoing training courses, so they are well versed in modern cooktops.
Call us right now, and we'll have your problem solved quickly! We are competitively priced and have a large staff that provides a fast, quality approach to every customer.